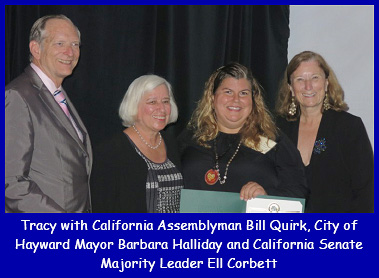 Congratulations to our very own Club President, Tracy Diaz-Dominguez for receiving the 2014 City of Hayward Mayor's Award.

Tracy was recognized earlier in the month at the 37th Annual Volunteer Recognition and Awards Dinner for her commitment to the renovations and construction of the Southgate Swim Club in 2012.

Some of you may remember that our dearly loved pool was on the verge of closing due to a major leak. With many set backs, in-cluding our hired contractor disappearing, Tracy rallied the community, media, and our amazing membership to take on the challenge and re-build Southgate. It was tough for Southgate. The pool was closed for all of the 2012 season and lost many of its members. But with Tracy's leadership, the renovations were com-pleted and opened it's doors once again in April 2013.

If you asked Tracy how she did it, she would humbly say that it wasn't her, it was the community coming together. Yes, without the many volunteers spending most weekends at the pool digging trenches, jack hammering the concrete and helping wherever they were needed; Or without the many donations received to help pay for this huge project, the pool may not have re-opened. But NONE of that would have happened without the leadership of Tracy Diaz. She is truly the one who deserved this award.

Tracy, THANK YOU for all you do for Southgate Swim Club.